About Me
Welcome to my website. I created this website in September 2002 to share information about the hikes and scrambles that I have accomplished. Currently, I am studying in Toronto, Ontario, but I have lived in Banff, Alberta for two great summers. After I graduate, I hope to find a job and move back to the Rockies. For now, I am just concentrating on my school work, not thinking much about the Rockies, except when I am working on this website. Anyways, hope you enjoy what you see here, and you can email me about my website for any errors, questions, and the likes.
Happy Hiking,
Michael L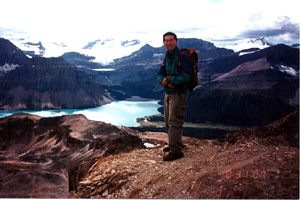 On the summit of Cirque Peak in Banff National Park - August 31, 2001.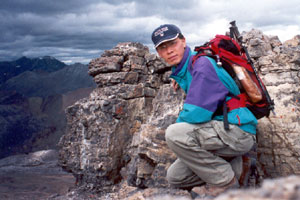 On the summit of Stuart Knob, Banff National Park - September 4, 2001.
What is Scrambling?
Scrambling lies somewhere between hiking and technical climbing, but a rope is not usually required for experienced parties if conditions are dry. Scramble routes range from steep, off-trail hiking while other ascents are more difficult requiring frequent use of hand and foot holds while ascending rock steps or traversing narrow ridges. The scrambling objective is usually a mountain top.
What is Hiking?
Hiking can describe everything from a walk in the park to steep mountain trails with over night camping. You can hike year-round in the in almost every hiking trail. However, be warned that avalanche hazards exist in may areas during the winter season. It's never a bad idea to check the weather before heading out.